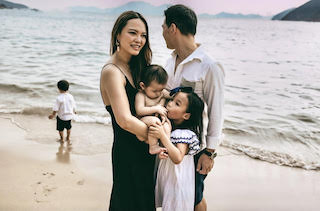 Chrisie Wong / Founder of DreamCare
As a mother of 3 and founder, Chrisie Wong understands firsthand how difficult it can be to find reliable, trustworthy and available childcare in Hong Kong.
Chrisie started her career with investment bank and then moved to asset management for over 10 years. She is also a Certified Positive Discipline Parent & Classroom Educator and Trainer through the Positive Discipline Association.  She is now pursing her sleep consulting programme with the International Maternity and Parenting Association.
When Chrisie was pregnant with her first child, she needed a professional nanny to help taking care of her baby when she went back to work, she was surprised to discover that none of the local nanny agencies operating in Hong Kong at the time were able to provide her with a suitable candidate. Learning that several expat friends were also on the hunt for trustworthy, experienced childminders, it wasn't long for Chrisie decided to do something about this obvious gap in the market and DreamCare was born.
DreamCare is now one of the leading nanny agency that specialized in certified native mandarin nanny.  We have an excellent reputation for our integrity, friendly approach and professionalism. We provide an exclusive and bespoke service to our clients and our nannies by carefully assessing the requirements of each role before selecting the very best candidates for your position.